Stay compliant with these tips for a clean and safe kitchen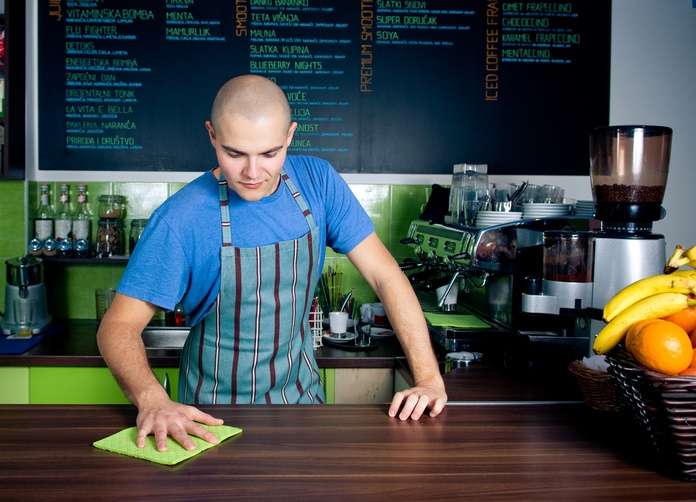 While food safety tasks seem basic from the outset, they can be easy to forget or do ineffectively – especially when your team is busy servicing customers. With the introduction of the New Zealand Food Act 2014 there can be more safety tasks to take on board, so it's key to have some simple ways you can manage basic food safety in the kitchen.
This blog will discuss some simple tips to help your team keep on top of daily food safety compliance tasks in the kitchen. We'll look at some key areas of cleanliness and hygiene to consider when remaining compliant with the New Zealand Food Act 2014.
General cleaning
Keeping your food prep and cooking areas clean and tidy is essential to any kitchen. Always clean as you go and ensure utensils are being cleaned correctly. It is a good idea to run your staff through training specific to your venue when they start so you know that everyone is up to the right standard.
Here's some effective actions of general cleanliness:
Not only should surfaces, chopping boards and utensils be washed with soap and water - they should be rinsed in clean water too. This

can

also

be

done before

utensils are

used to handle and prepare food.
Benches and boards

can

be wiped with a dilute solution of bleach after cleaning

to ensure the space is thoroughly clean

.
Keep separate sponges for the dishes, bench and floor.
Regularly change reusable dishcloths and sponges

to avoid build up of bacteria

. They

should

be cleaned thoroughly by rinsing and then

soaking

overnight in a shallow dish of water with 5 to 10 drops of household bleach.
Hand washing
Provide a designated area for staff to regularly wash their hands. Keep it clean and tidy and encourage them to use it. Basic hand washing should involve:
The use of soap and warm running water for

at least

20 seconds
Cleaning underneath

your

fingernails with soap and a nail brush
Drying

your

hands using a clean dry towel (

or disposable paper towel

)

.
Keep sick staff away
Don't take any risks with sick staff. Those who are unwell should stay well away from food being served due to the risk of contamination and spreading illness.
Cooking
Ensure you're aware of how certain foods should be cooked according to regulations - particularly meat. Here's some cooking advice to help prevent any harmful bacteria contaminating your food.
Defrost frozen foods thoroughly otherwise they

may not

cook properly in the middle.
Use a meat thermometer to check temperatures in the thickest part of the meat - this should be 75 degrees Celsius or above
Keep raw and cooked foods separate, using one set of utensils for raw meat and another for cooked food
Cool cooked food to below 5 degrees within six hours (and below 21 degrees within two hours).
Kitchen temperature
Consider the temperature of your kitchen - how can you control it better so that your food isn't affected. Take extra care in the summer as warmer weather can bring moist conditions ideal for pathogens to multiply quickly and cause food poisoning.
Food Control Plan (FCP)
An effective FCP is the first step in helping you remain compliant, so develop a plan to keep track of all safety tasks taking place in your kitchen.
Establishing a culture of cleanliness is vital to effective kitchen performance, and encouraging staff to undergo food safety training will help everyone understand it's importance. Having a thorough understanding of the importance of food safety will ultimately keep your establishment clean, safe and compliant.